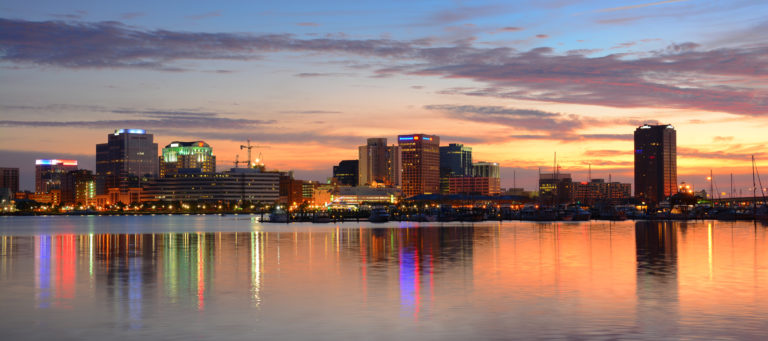 October 25, 2016
Justin Fairfax Received Major Endorsements Throughout Hampton Roads/Tidewater.
Justin Fairfax Receives Major Endorsements throughout Hampton Roads/Tidewater from Top Democratic Elected Officials and Party Activists for Lieutenant Governor of Virginia
ANNANDALE, VIRGINIA – Today, an extensive list of top Democratic elected officials and party activists from throughout the Hampton Roads/Tidewater area – including Hampton, Norfolk, Portsmouth, Newport News, Chesapeake, Virginia Beach, Suffolk, Gloucester, Mathews, Middlesex, and Accomack – endorsed Justin Fairfax to be elected Lieutenant Governor of Virginia in 2017.
The elected and party officials jointly announced their enthusiastic support and endorsement of Justin Fairfax, who publicly announced his campaign in May 2016 – more than one year before the June 13, 2017 Primary election – and was the first Democrat to enter the 2017 race for Lieutenant Governor of Virginia.
"I am deeply honored to receive such enthusiastic and widespread support from so many great elected officials and party leaders from throughout Hampton Roads/Tidewater," said Justin Fairfax. "I have spent a great deal of time in the Hampton Roads/Tidewater region over the past four years. The region has a powerful history and a bright future, and I am excited about continuing to work alongside the excellent leaders in Hampton Roads/Tidewater for many years to come."
With a population of more than 1.7 million residents, the Hampton Roads/Tidewater region is critically important to the Commonwealth of Virginia and the nation. The region features a powerful history, robust and diversifying economy, strong military presence, tremendous natural and environmental resources and beauty, and a diverse population.
The following Democratic elected officials and party leaders from throughout Hampton Roads/Tidewater announced their endorsement today of Justin Fairfax for Lieutenant Governor of Virginia:
Delegate Marcia S. Price, Newport News
Mayor McKinley L. Price, Newport News
Vice-Mayor Tina Vick, Newport News
Sheriff Gabe A. Morgan, Sr., Newport News
Democratic Party Co-Chair Delores Thomas, Newport News
Mayor Kenny Wright, Portsmouth
Commonwealth's Attorney Stephanie N. Morales, Portsmouth
Councilman & Democratic Party Chair Paige D. Cherry, Portsmouth
Former Delegate Mary T. Christian, Hampton
Former Mayor George E. Wallace, Hampton
Commonwealth's Attorney Anton A. Bell, Hampton
Councilman Will J. Moffett, Hampton
School Board Chair Jason S. Samuels, Hampton
School Board Member Dr. Reginald Woodhouse, Hampton
Sheriff Bob McCabe, Norfolk
Councilwoman Angelia Williams Graves, Norfolk
Councilman Paul R. Riddick, Norfolk
Commissioner of the Revenue Evans Poston, Norfolk
Democratic Party Chair Linwood Fisher, Norfolk
Councilwoman Dr. Ella P. Ward, Chesapeake
Councilwoman Amelia Ross Hammond, Virginia Beach
Sheriff Raleigh H. Isaacs, Sr., Suffolk
Democratic Party Chair Leslie A. Rinaldi, Suffolk
Democratic Party Co-Chair Bud Ward, Mathews
Democratic Party Co-Chair Edith Turner, Mathews
Democratic Party Chair Dianne Carter de Mayo, Gloucester
Democratic Party Chair Hallie J. Holmes, Middlesex
Acting Democratic Party Chair Nancy Payne, Accomack County
The campaign also announced that Justin Fairfax has been endorsed by a significant number of elected and party officials from throughout Virginia and that additional endorsements will be announced publicly in the near future.
In 2013, Fairfax was a Democratic candidate for Attorney General of the Commonwealth of Virginia. He earned more than 48% of the statewide primary vote and the endorsement of The Washington Post, which cited his "agile and impressive command of the issues" and his "prosecutor's passion for justice." In that election – his first ever run for public office – Fairfax earned more than 68,000 votes and lost by less than 2 votes per precinct statewide. In 2014, Mr. Fairfax served as Co-Chair of Virginia Senator Mark Warner's successful reelection campaign. He currently serves as a litigator in the Tysons Corner, VA office of the law firm Venable LLP.
Fairfax previously served as an Assistant United States Attorney for the Eastern District of Virginia in the Major Crimes and Narcotics Unit of the Alexandria Division. Justin is a graduate of Duke University, where he served on the Board of Trustees, and he currently sits on the Board of Visitors of the Duke University Sanford School of Public Policy. He graduated from Columbia Law School, where he was selected to be a member of the prestigious Columbia Law Review. Justin's wife, Dr. Cerina W. Fairfax, DDS, is a graduate of the VCU School of Dentistry in Richmond, Virginia and Duke University. Justin and Cerina have one son, Cameron, and one daughter, Carys. They live in Northern Virginia where they own a thriving family dental practice.