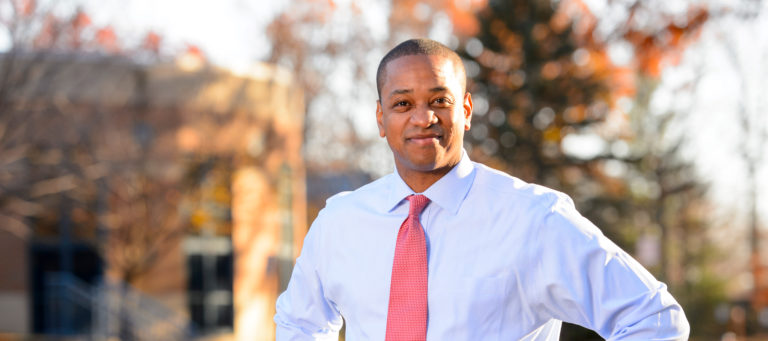 December 15, 2016
Justin Fairfax Receives Major Endorsements throughout Northern Virginia
ANNANDALE, VIRGINIA – Today, an extensive list of top Democratic elected officials and party activists from throughout Northern Virginia – including Alexandria, Arlington, Fairfax, Herndon, Loudoun, Prince William, and Vienna – endorsed Justin Fairfax to be elected Lieutenant Governor of Virginia in 2017.
The elected and party officials jointly announced their enthusiastic support and endorsement of Justin Fairfax, who publicly announced his campaign in May 2016 – more than one year before the June 13, 2017 Primary election – and was the first Democrat to enter the 2017 race for Lieutenant Governor of Virginia.
"I am tremendously honored and grateful to receive such widespread support from such an impressive group of political and civic leaders from throughout Northern Virginia. I look forward to working very closely with these leaders to bring more economic security and opportunity to every region of the Commonwealth. Together, we will continue to diversify, grow, and strengthen Virginia's economy, create higher-paying jobs, and bring positivity and hope back to our politics. We also will work to solve the common challenges that we face, including reforming our criminal justice system and improving police-community relations, making higher education and vocational training more affordable, investing in early childhood and K-12 education and STEAM initiatives (Science, Technology, Engineering, Arts, and Math), protecting our environment and addressing the threat of climate change, expanding voting rights, protecting women's economic and reproductive healthcare rights, supporting our military members and their families, and better serving our fellow Virginians with disabilities and mental health challenges."
Northern Virginia is a key region in the Commonwealth and one of the most dynamic and growing areas in the country. With 2.8 million residents, Northern Virginia is home to approximately one-third of Virginia's total population. Northern Virginia accounts for nearly 45% of the value of Virginia's economic activity and approximately 37% of all employment in the Commonwealth. The area features a diversifying economy, a robust private sector and federal government presence, excellent educational institutions, and a tremendously diverse demographic population.
The following Democratic elected officials and party leaders from throughout Northern Virginia announced their endorsement today of Justin Fairfax for Lieutenant Governor of Virginia:
Senator Chap Petersen, 34th District
Senator Scott Surovell, 36th District
Delegate Paul Krizek, 44th District
Delegate Patrick Hope, 47th District
Delegate Marcus Simon, 53rd District
Sheriff Stacey Kincaid, Fairfax County & City
Board of Supervisors Member Penny Gross, Fairfax County
Activist/Former Candidate for Clerk of Court Bettina Lawton, Fairfax County & City
Mason District Democratic Party Chair, Rachel Rifkind, Fairfax County
Former Democratic Party Chair, Cesar Del Aguila, Fairfax County
Former Democratic Party Chair, Rex Simmons, Fairfax County
Board of Supervisors Chairwoman Phyllis Randall, Loudoun County
Board of Supervisors Member Koran Saines, Loudoun County
Board of Supervisors Member Kristen Umstattd, Loudoun County
Board of Supervisors Member Christian Dorsey, Arlington County
School Board Member & Former Chairman James Lander, Arlington County
Commonwealth's Attorney Theo Stamos, Arlington County
Mayor Emeritus Bill Euille, City of Alexandria
City Council Member Willie Bailey, Alexandria
City Council Member John Chapman, Alexandria
School Board Member Chris Lewis, Alexandria
Mayor Lisa Merkel, Town of Herndon
Councilwoman Sheila Olem, Town of Herndon
Former Delegate Michael Futrell, Prince William County
Councilman Derrick Wood, Town of Dumfries
Former Board of Supervisors Candidate Andrea Bailey, Prince William County (Occoquan)
DNC Committeewoman & Former President Young Democrats of America, Atima Omara
DPVA Veterans and Military Families Caucus, Terron Sims, II
Former Congressional Candidate Lavern Chatman, 8th Congressional District
DPVA Chair Democratic Black Caucus of Virginia, Evelyn Morris-Harris
The campaign also announced that Justin Fairfax has been endorsed by a significant number of elected and party officials from throughout Virginia and that additional endorsements will be announced publicly in the near future.
In 2013, Fairfax was a Democratic candidate for Attorney General of the Commonwealth of Virginia. He earned more than 48% of the statewide primary vote and the endorsement of The Washington Post, which cited his "agile and impressive command of the issues" and his "prosecutor's passion for justice." In that election – his first ever run for public office – Fairfax earned more than 68,000 votes and lost by less than 2 votes per precinct statewide. In 2014, Mr. Fairfax served as Co-Chair of Virginia Senator Mark Warner's successful reelection campaign. He currently serves as a litigator in the Tysons Corner, VA office of the law firm Venable LLP.
Fairfax previously served as an Assistant United States Attorney for the Eastern District of Virginia in the Major Crimes and Narcotics Unit of the Alexandria Division. Justin is a graduate of Duke University, where he served on the Board of Trustees, and he currently sits on the Board of Visitors of the Duke University Sanford School of Public Policy. He graduated from Columbia Law School, where he was selected to be a member of the prestigious Columbia Law Review. Justin's wife, Dr. Cerina W. Fairfax, DDS, is a graduate of the VCU School of Dentistry in Richmond, Virginia and Duke University. Justin and Cerina have one son, Cameron, and one daughter, Carys. They live in Northern Virginia where they own a thriving family dental practice.