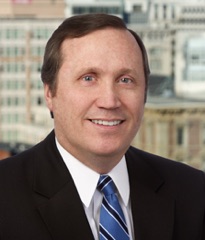 February 21, 2017
BREAKING: Chair of Successful Statewide Kaine Campaigns Will Chair Justin Fairfax for Lt. Governor Campaign
Roberts to Chair Fairfax for Lt. Governor Campaign
Has Chaired Successful Virginia Gubernatorial and U.S. Senate Campaigns
FAIRFAX, VIRGINIA  –  Today, the Justin Fairfax for Lt. Governor campaign announced that long-time Virginia civic and political leader Larry Roberts will serve as Campaign Chair.
Roberts, a partner in the Venable LLP law firm, has held numerous leadership roles in local, state, and national civic, business, and political organizations. In 2005, he was Campaign Chair for successful gubernatorial candidate Tim Kaine. After serving as Counselor to the Governor and as Chief of Staff to the DNC Chairman, Roberts also chaired Kaine's successful 2012 U.S. Senate campaign.
In addition to his law practice, Roberts currently serves on the boards for several well-regarded statewide organizations in Virginia.
Throughout his career, Roberts has been known not only for his political and organizational acumen, but also his commitment to expanding opportunities and broadening civic engagement, fostering regional cooperation, promoting Virginia's interests, and making government more diverse and accessible to Virginia residents.
Upon naming Roberts as Campaign Chair, Justin Fairfax commented that:
"I am pleased that Larry is taking on this important formal role with the campaign. He has been a tremendous friend, colleague, and advisor. In those roles, he has shown the exceptional wisdom, judgment, capabilities, and integrity that many have come to know over the years. We share a passion for our Commonwealth, helping people from across our state to be successful and pursue their dreams, promoting effective government resources and solutions when and where they are needed, and also ensuring that we have a strong private sector that helps to promote economic security and opportunity and moves Virginia forward. As our campaign continues to gather momentum, it will be great to have Larry in a leadership role."
Roberts noted that:
"I have been very impressed with Justin as I have gotten to know him over the years. He is a highly intelligent, compassionate, and forward-thinking leader who can deliver results and represent our Commonwealth with honor and distinction. He brings a broad range of experiences to the campaign and, as a result, is able to connect with people from all walks of life. Justin has traveled extensively across the Commonwealth for the past four years to listen, help others, and to talk about his hopes for the Commonwealth and its people. He also pays attention to the hopes and concerns his fellow Virginians are expressing at a momentous time in the life of our nation and our Commonwealth, and he will fight to protect and promote our fundamental rights. Justin will bring to the position of Lt. Governor a sound temperament and policy perspective. But more importantly, he will provide the type of positive, hard-working, and innovative leadership that will make a real difference in the lives of Virginians."
Prior to his candidacy for Lt. Governor, Justin Fairfax received more than 48% of the vote in the 2013 Democratic primary for Attorney General of the Commonwealth. In that campaign, he earned the endorsement of The Washington Post, which cited his "agile and impressive command of the issues" and his "prosecutor's passion for justice." Later that year, he was Co-Chair of the successful Coordinated Campaign. In 2014, Mr. Fairfax served as Co-Chair of Virginia U.S. Senator Mark Warner's successful reelection campaign. He currently serves as a litigator in the Tysons Corner, VA office of the law firm Venable LLP.
Fairfax previously served as an Assistant United States Attorney for the Eastern District of Virginia in the Major Crimes and Narcotics Unit of the Alexandria Division. He is a graduate of Duke University, where he served on the Board of Trustees, and he currently sits on the Board of Visitors of the Duke University Sanford School of Public Policy. He graduated from Columbia Law School, where he was selected to be a member of the prestigious Columbia Law Review. Justin's wife, Dr. Cerina W. Fairfax, DDS, is a graduate of the VCU School of Dentistry in Richmond, Virginia and Duke University. Justin and Cerina have one son, Cameron, and one daughter, Carys. They live in Northern Virginia where they own a thriving family dental practice.